Don't forget Snowcoming Spirit Week starts tomorrow! PJ Day!! You will also get more details on your event punch card! Home events every night this week! Let's show some Ranger Pride!

Parent Teacher Conferences are scheduled for February 16th & 17th. We have a NEW online sign up. Please login to
www.myconferencetime.com/mhsrangers
and select the teacher or teachers you wish to meet with. Please indicate in the COMMENT section if you would like the teacher(s) to contact you by phone, otherwise, they will assume you are coming in person. Make sure you select "SIGN UP" at the bottom of each teacher screen to schedule your appointment. Thank you and GO RANGERS!

Tuesday 1/10 is NWEA testing. All high school students will test. Dual enrollment students will attend all day, as well as CTC students. No students will attend CTC on Tuesday. Virtual students do not need to come in to test at this time. Please bring Chromebooks and have them charged.

Exam schedule for next week!

Reminder that parent/teacher conferences are Monday 11/21 (5pm-8pm), Tuesday 11/22 (5pm-8pm), and Wednesday, which is a half day of school, (1pm-3pm). Drop ins are welcomed and encouraged! No school for Thanksgiving November 24 & 25.

Varsity Volleyball Districts at McBain Wednesday at 5:30 vs. McBain! Tickets online only at gofan.co (search for Manton) There are still seats available on the spec bus for students. Admission is paid if a student rides the spec bus! Bus leaves at 4:30! Go Rangers!

Seniors! Jostens was here today to hand out graduation packets! If you weren't here this morning, packets are located in the office! Jostens will be here again Thursday, 10/20, during lunch to take orders in person if you choose not to order online. ALL seniors will need to order a cap/gown package.

Chromebooks must be turned in during the 3rd hour exam, 5th hour for am CTC. Chargers must be turned in or $25 for replacement. Hotspots must also be turned in. Thank you for your cooperation with this.

Information on testing Wednesday!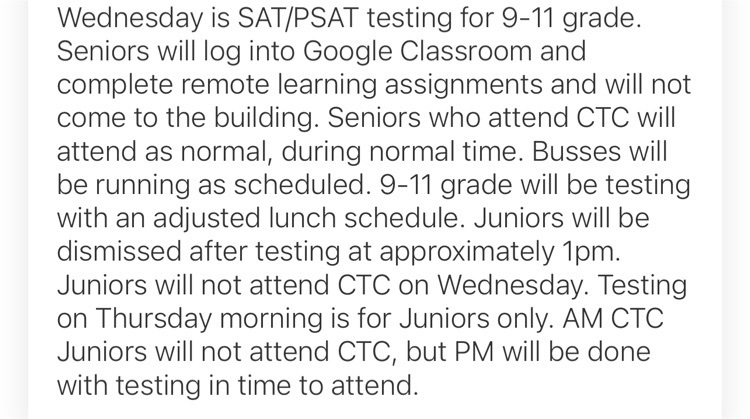 All athletic events today have been canceled.

Friday's high school schedule for exams 2nd hour- 8:30-9 3rd hour - 9:04-9:30 1st hour exam-9:30-11:30 Lunch 11:30-12:00 4th hour-12:04-12:34 5th hour- 12:38-1:08 6th hour exam 1:11-3:10 Monday and Tuesday will remain as planned.

Exams 1 & 6 will be conducted on Friday. We will adjust the hourly schedule to allow for review with teachers and study time to ensure students are prepared for those exams. Students will report to 2nd hour first thing in the morning. CTC will run as normal.

No AM CTC this morning due to no power at the Career Tech Center.

Juniors- SAT Testing tomorrow morning in the HS Gym. Bring a calculator and report directly to the gym. AM CTC juniors will stay back in order to test.

Reminder! Open House is tonight from 6:30pm-7:30pm! Freshman Orientation is at 6pm in the Ranger Room!

Class of 2021! Final transcripts are ready and must be ordered through your Parchment.com account in order to be sent to your university. Please do this ASAP!

Reminder that the High School Summer Workout Combine is tonight at 5pm in the high school gym. Wear workout clothes!

Summer school starts tomorrow at 8:30am. If your student failed a class this year, they should be attending. Please call 824-6411 if you have questions. Breakfast and lunch will be available to students who attend. All students will meet in the HS library tomorrow to start.

Seniors! Senior Walk today! Meet at the tennis court on the playground with your cap & gown at 12:15pm! Rehearsal immediately following at the football field! Class Night tonight at 6:30 at the football field!

Seniors need RSVP form filled out ASAP for graduation tickets! Check your email, please!