News
Reminder to Middle School Parents:Parent/Teacher Conferences will be November 25 & 26. This is just for middle school. November 26th will be a half day of school for all students. Students dismissed at noon.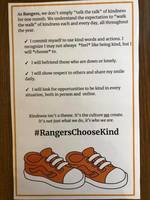 The Manton Middle Schooler's took the Ranger Pledge for Kindness.
Two former Michigan State basketball players, Matt McQuaid and Kenny Goins spoke at an assembly at Manton Middle School. The pair talked about a variety of topics, including academics and determination, then they answered several questions. They also hosted a basketball camp after school.
SEE ALL NEWS